Browsing clothing racks in a thrift store can be time consuming, overwhelming and frustrating, or it can be invigorating, exciting and encouraging.
As a true Frugal Fashionista, I realize it's all in how you approach "the hunt."
Having a chunk of time to scour the racks by yourself is a slice of heaven, but if you don't have the time luxury or you are a newbie to the thrift store hunt, here are five things I suggest to make your meandering minutes more meaningful.
Head straight for monochromatic colors.
Browsing through prints and patterns take time. Sticking to a monochromatic theme allows you the ability to mix and match accessories, as well as fun jackets, sweaters etc. Think through your present wardrobe and determine some additional core wardrobe pieces you'd like to have and start there. Do you need an additional long sleeve shirt for winter?
Then go to that section and allow your eyes to quickly scan for solid colors. It gives you a starting place. I know I always drill in finding some classy black pieces first, but that is personal opinion. Any solid colors are a great place to begin.
Realizing last year that my holiday classics were sorely lacking, I scanned for some rich red, deep purple and deep green shirts. I found three that I loved, and they got me through six weeks of holiday outfits by changing them up with different pants, skirts and wraps.
Look for creative details on the sleeves or hems.
When I am in a hurry and don't have time to separate all the hangers, I will glance at the sleeves for a unique element. This approach has scored me some great pieces which I could have easily overlooked in my rush.
One of my favorite $3 Good Will finds starts off as a seemingly elegant, but typical black dress shirt.
It sure does take on a whole new look when I start walking. 🙂
It's a beautifully simple, yet sophisticated blouse with such unique details on the sleeves.  I also want to point out that this blouse was meant to be purely sexy. It's got a sheer to it that you can see on the sleeves, and it's really low cut. I address that issue by layering underneath a pretty $1 Banana Republic yard sale tank.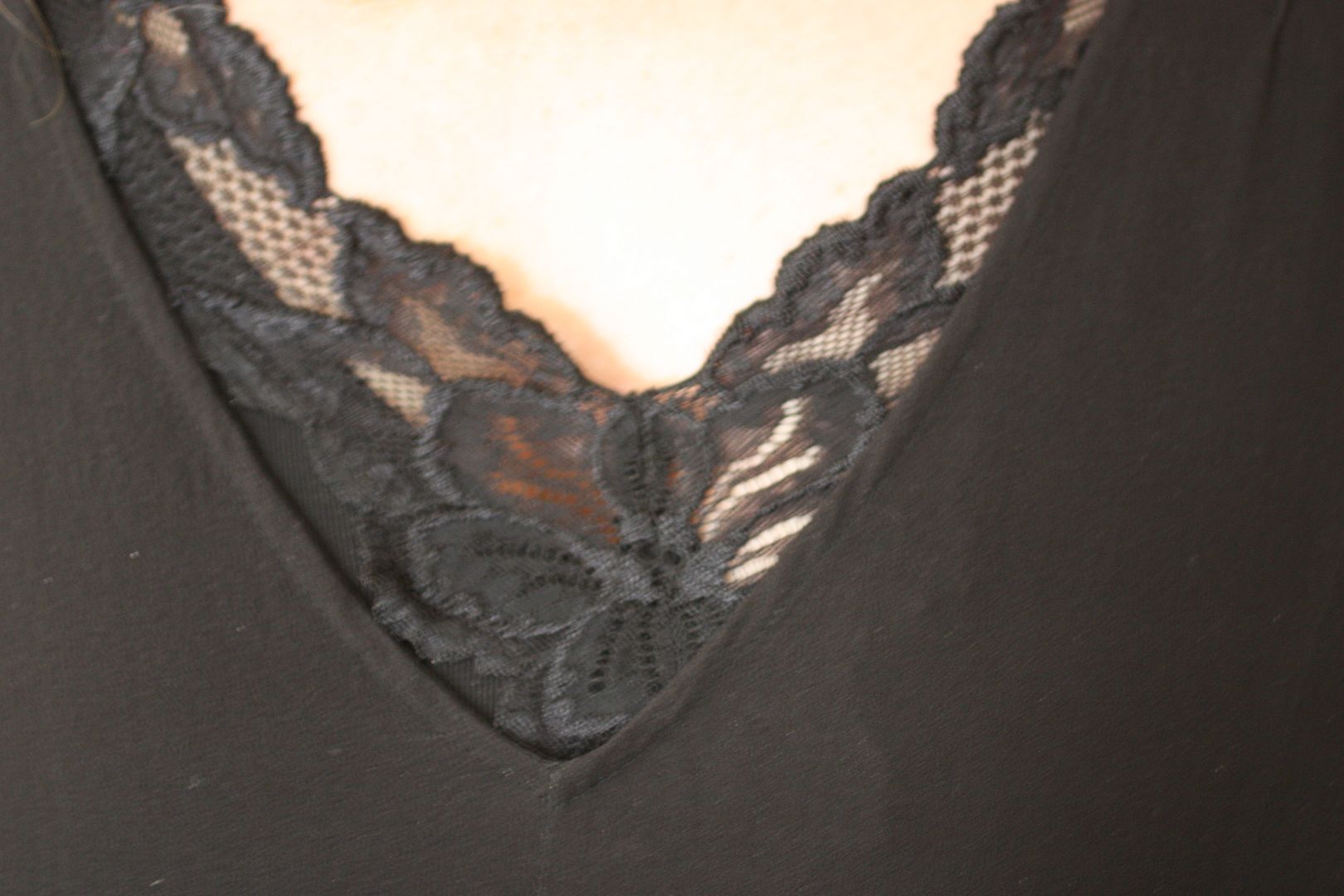 Besides the fact that this pink sweater is a bit bright, it really is not very flattering. It has that 'box look' that doesn't do anything for any body type. Layering it underneath my black jacket so that the cool details show, this $2 sweater and $3 jacket was a hit.
And yes, I didn't need to pull on the fringe. I think you would have gotten the idea just fine with out me stretching it out. 🙂
Use your hands and feel the fabric.
Yes, I incorporate all my senses into the thrift store shopping experience.
As I scan, I literally use my hand to brush across the sleeves that hang down. I would NOT want to miss that silk shirt or cashmere sweater for which I've been searching. That could definitely happen in a crowded rack if I didn't  incorporate the sense of touch. Often, I will take a second look at an outfit merely because it had a "I'll sleep in it, it's so comfy" feel.
Shop ahead and buy out of season.
I nearly passed up this cute red summer sun dress because I wouldn't be able to wear it for six months.
I'm glad I snatched it up for $3.99. With a cute white cardigan, I will wear this for months. In smaller thrift stores, in-season clothing may be picked over, but if you're open to thinking ahead, you can snag some deals on the upcoming seasons.
(There is a story behind this picture, ask my son. 🙂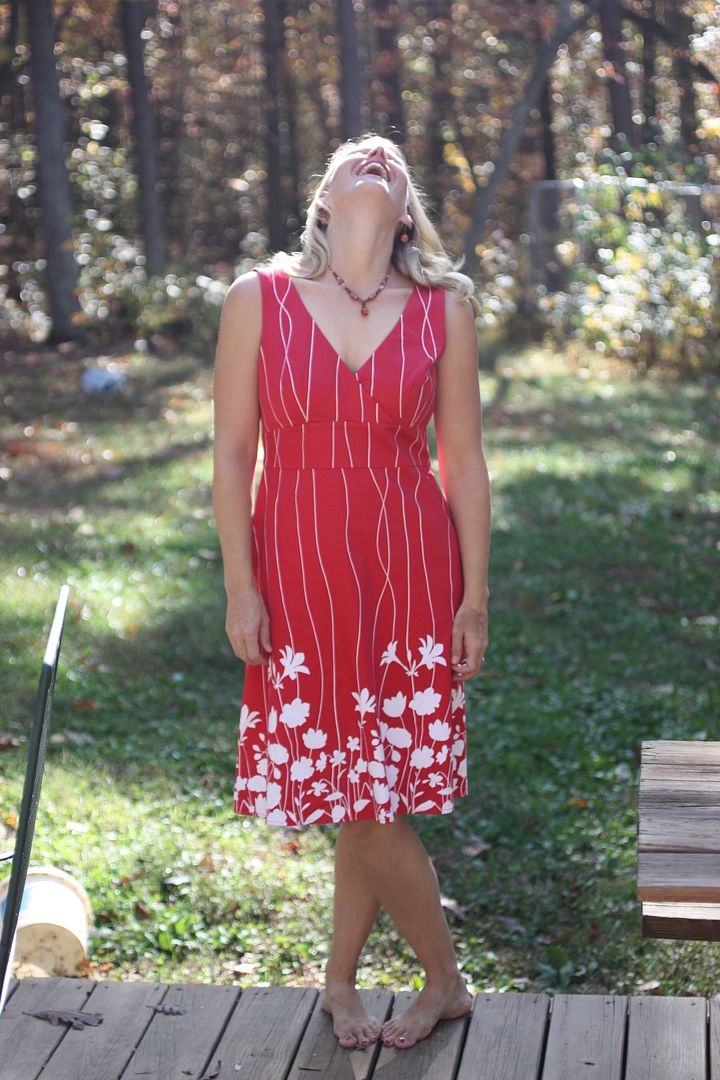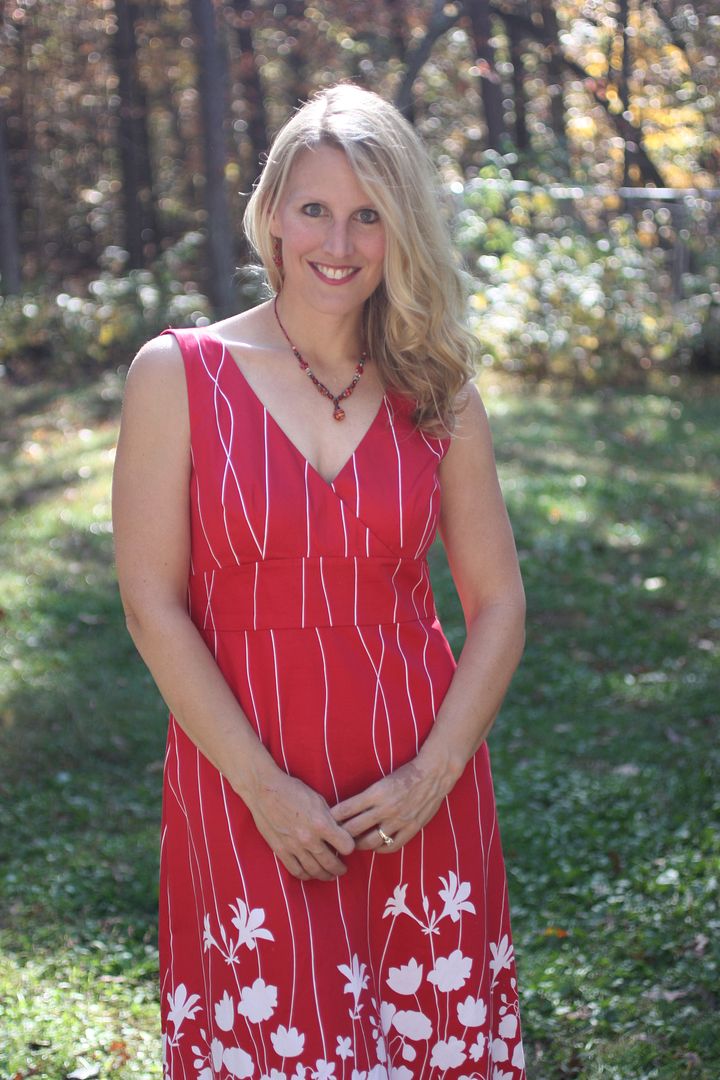 Check the incoming rack and the racks near the dressing rooms.
If you are visiting a larger thrift store, chances are the workers  will wheel out racks of clothing during your visit. Go browse those racks right away because if a classy dresser just happened to donate while you were shopping, you have hit the jackpot.
Just this week, I bought an amazing black leather jacket. They wheeled it out and my eyes spotted it on the end of the rack…whoot whoot. Just my size! (I really should have a pic of it here, shouldn't I?) Also, let the people trying clothes on find some treasures for you. I have gotten  items this way as well. They'll find a bunch of things in their size (which happens to be your size) and it doesn't work for them so they put it on the dressing room rack. It works for me. 🙂
Hopefully, these five tips will help as you begin to browse through clothes at a thrift store.
It can be a lot of fun, but it can also be time consuming. If you follow these ideas (these are just a few for starters), you'll be well on your way to Quick Shopper/Frugal Fashionista status. (If you're not already.) 🙂