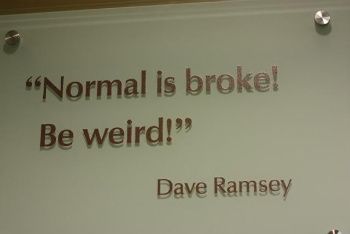 From personal understanding, getting ones family finances under control requires many of the same tactics that I've been experiencing as I ride this weight loss roller coaster. As I share tidbits of money lessons learned, there will be those reading that have the same response as when I posted about gaining, and hopefully, losing weight.
It's an emotional topic. It may step on toes. It's bound to offend someone because money advice always does. No one can completely understand the road you're walking unless they have traveled it before.
As we approach the months where most consumer debt is accumulated, there is no better time to dig in and get dirty about your financial future. It's not glamorous or easy. In fact it requires sacrifice, but with discipline, perseverance, and consistency, you can change your family's financial tree and dig out those rotted roots for a total transplant.
It's not about cutting coupons, dressing Frugal Fashionista style, or shopping at a thrift store. (I just do that for my own fun.)  It's a complete overhaul with how you view money.
Shockingly enough, 90% of people buy things they can NOT afford. Simply put, nine out of ten of you reading this post will make purchases over the next few months that you should NOT buy. That's an overwhelming majority, so don't think you are being called out in this arena as an isolated situation. There is strength in numbers as we overcome anything, with finances and debt being no different. We are on this road together.
I am so thrilled to be tackle this subject now. During this upcoming buying season, I pray we can encourage each other as we walk through these months with a new reality of what financial responsibility encompasses. Whether you make $20,000 a year or $200,000, the necessary overhaul with how you view money is very consistent. It's not going to happen overnight, and it certainly isn't a quick fix, but you will have direction.
So, let's ask the question:
How much do you want financial freedom?
P.S. Please know that I understand there are extenuating financial circumstances, and I've been there as well. Last September, I wrote a post in the midst of our "God Watch" unemployment time, I acknowledged there was a season when I had to charge groceries on our credit card – not for convenience, but due to need. For us, those days are past, but that time caused us to make significant changes to our life.   I know some of you are struggling to keep food on the table or save your house, so please do not feel any finger pointing from me…only grace. (For more on grace, Emily's October is all about that very topic.

Click here for my previous 31 Days to More with less posts.
My 31 Day girlfriends: Chatting at the Sky, Nesting Place, My First Kitchen, Life With My 3 Boybarians, Reluctant Entertainer, TheInspired Room, Remodeling This Life