Sometimes as women we put so much pressure on ourselves to be "perfect"  – the perfect mom, the perfect employee, the perfect…(fill in your blank).
Especially during the holidays, the desire for Martha Stewart decorations, the Food Network's Holiday Dinner and a bounty of presents sparkling under the Christmas tree overtakes us. But sometimes that just doesn't happen, and you know what? That is OK.
Memories aren't magical because of the money spent or the amount of holiday lights twinkling in your trees. Memories are woven into your legacy by the relationships built, the bonding that occurs, and the traditions you do over and over.
So what does that have to do with a Donut Birthday Cake?
My readers know that we hosted a fairly spontaneous 16th birthday party for our eldest son on a budget. He had the night of his life, and the night was absolutely perfect. But you know what?  Martha probably would not have declared, "It's a good thing."
And I am delighted with that.
I had a complete revelation. You know one of those reminders that you've had before but kind of forget? I knew I wouldn't have time to bake a cake and certainly didn't want to buy a sheet cake for 70 people (including family), so I thought outside the box…literally, the Krispy Kreme box.
I bought five dozen donuts and in about two minutes, I built a Krispy Kreme donut birthday cake. We added more donuts after this picture was taken and I evened out the sides a bit to make it a bit more professional looking. Friends, this poor, little Charlie Brown Christmas tree, donut cake was the hit of the party.
My son exclaimed, "That's really cool, mom." And if the birthday boy is happy, momma's happy.
If the guests weren't arriving as I was stacking them, I would have embellished it a bit more with some frosting, sprinkles and real candles, but then again…there was no need. He loved it just the way it was.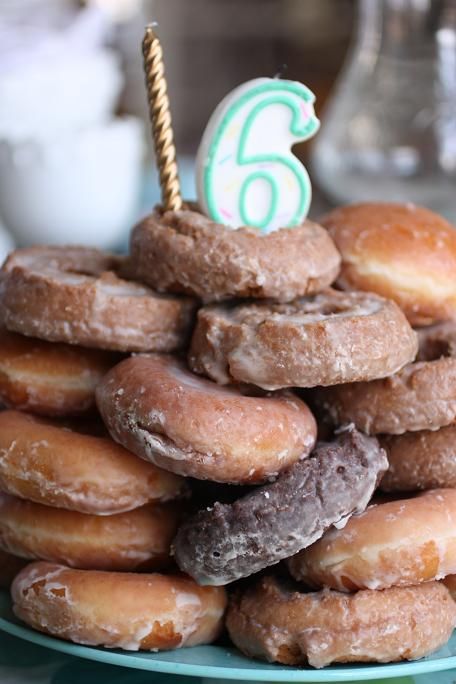 So ladies, why all the pressure? Can we be free this month to give ourselves permission to lower the bar of perfection, but raise the bar on quality time, making magical memories and casting vision for the legacy that we all want to leave?
Sometimes it's OK to just go with what is easiest and realize that when our kids are grown, they aren't going to remember if we spent three hours decorating that perfectly manicured cake. Sometimes, they'll just remember those donuts stacked haphazardly with love on a huge platter.
I thought I was all creative with my donut birthday cake until I saw this. Now, that is fun. It's almost at great as my brother's wedding cupcake stand. Almost!