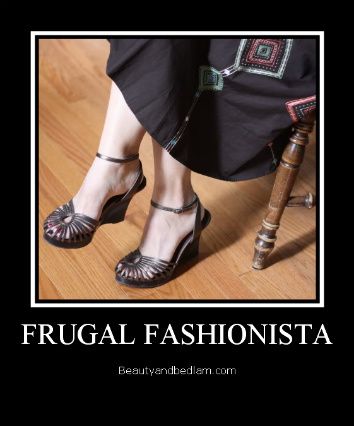 (Are you new to my Frugal Fashionista series? Find out how I dress for less with designer outfits for mere pennies on the dollar. Yes, all outfits  from head to toe are less than $15.)
When I was in NYC with some blogging girlfriends, we were told about this new craze on You Tube called a "Fashion Haul." Typically, I tune out the "what's in" stage, but this was pretty interesting with my Fashionista tendencies.
It's basically where girls, women, and shopaholics, from all walks of life, come home from a spending spree and then video tape their finds to show their viewers.  Most of them are sharing crazy amounts of clothing for an even crazier amount of cash.
Well, I had a Fashion Haul of my own at one of my favorite "hot spots," – the mother queen of all fashion yard sales.  Three women with amazing taste in clothes cleared out their designer closets, just so that I can show you all the possibilities that are out there to become your own Frugal Fashionista. This is now the second year I have been fortunate enough to hit this jackpot, and you can can bet that I will prioritize it every year.
So at 10:30pm this evening, I decided to show you my own Fashion Haul – Frugalista style. I hope you enjoy it.
(If you're receiving this by email or reader, you'll need to click over to my site to watch the video.)

Obviously, the more clothes I bring in, the more I need to clean out. This has been my biggest struggle with my Frugal Fashionista status. I find amazing clothes for next to nothing cash wise, but stuff is stuff and stuff takes up room. I used to buy clothes that were just a bit too small with the hopes that I would fit into them within "xyz" months. I've learned the hard way that those items just accumulate in my closet causing more STUFF.  I am doing a better job of passing on the things that I'm not wearing knowing that there are more great deals right around the corner.
As you watch this video and see the large amount of clothing I got for only $15, wrap your brain around the fact that this was a drop in the bucket in comparison to the clothes that were still there, at which I didn't even look. On my way to speak at a conference, I literally had minutes to "shop." My sister in love went after I did and picked up around thirty items for herself and my nieces  – all as cute as what I found.
I know, I know….I wish you had been there as well. 🙂